About Us...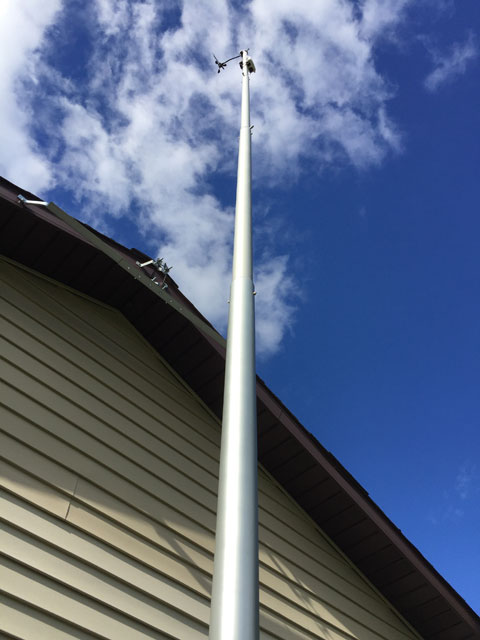 Why use this site?
It's run locally for visitors and residents of Marquette, Michigan. You'll receive accurate, real-time weather for the city.
Speed! Our server is in Michigan, and our pages consume very little data.
We have no ads or external tracking scripts that collect or sell your activity.
This site is will run on any modern device (fully responsive) and a host of older ones too.
Security! Featuring 256-bit encryption and no 3rd party content by default aside from forecast icons and the latest NWS radar image. The site even retains basic functionality with JavaScript disabled.
Exclusive features include: real-time conditions, multiple radar views, city normals/records, snowfall totals, user-configurable pressure, and keyboard navigation.
Conditions
Current conditions are generated approximately 1/4 mile south of downtown Marquette. Wind is measured 28ft above ground level (AGL) and temperature/humidity at 5ft AGL. Our measurement location is typical of the city and yet provides a relatively open exposure to the prevailing winds.
We use the highly-accurate Sensirion SHT31 sensor suite inside a Davis VP2 24-hour fan-aspirated radiation shield. We replaced the DC stock fan with a durable AC-powered fan that moves more air through the sensor chamber. This minimizes radiation errors and ensures the quickest sensor response time.
Specifications:
Temperatures are within +/- 0.5°F. Humidity is normally within +/- 2% and at most 3%.
Pressure is at most +/- 0.03" but typically within 0.01" of mercury.
Windy conditions can result in significant real-time rain measurement errors (>20-30%). In that event, we correct the next day with measurements from our offline CoCoRaHS gauge (check the Stats page). Usually rain totals between the two gauges are very close. Snow is measured manually up to four times a day using two 16"x16" snow boards at ground level and published in the Almanac section of the home page (past measurements available on the Stats page).
Routine checks and calibrations are performed to be sure all devices are operating optimally.
Updates:

Conditions are pushed to your device every 60 seconds although you can adjust the interval to your liking (from 3 seconds to 10 minutes). The home page reloads automatically every 10 minutes to grab the latest forecast and almanac (unless you disable reloads in page settings -- see upper right of home page). If you leave the home page open but minimize it or select a different tab, when you return -- assuming more than 10 minutes has passed -- a complete refresh will occur. Otherwise, only the conditions will update. The Stats page is updated every 5 minutes (no auto refresh). The temps and forecast on the Area page are updated every 10 minutes (no auto refresh).
Forecasts
The National Weather Service provides our city forecast. Due to Marquette's varying elevation and lake exposure your mileage may vary. The Coast Guard temperature is a good example of the immediate lakeshore environment (1-2 blocks wide).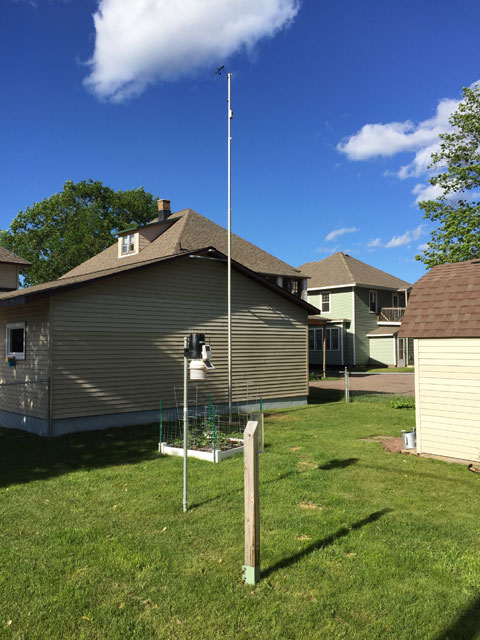 Marquette's Unique Climate
Other sites use the NWS records measured in Negaunee Township (old county airport location) which begin in the 1960s. We are the only website to use Marquette city records (going back to 1871) in our almanac section. Why is this important? Marquette has an average annual temperature (43.2) that's closer to Traverse City (45.4) than Negaunee (40.1). We are also in a USDA plant hardiness zone (5b) shared with Milwaukee and Lansing. Simply put, it's different here!
In the winter, lake-effect snow increases as you rise in elevation. A 750 foot gain between the city lakeshore and the National Weather Service forecast office, for example, is the difference between approximately 120 inches of snow (Marquette) and 200+ inches of snow (Negaunee) on average annually. Just for reference, 80 inches is an entire winter's worth of snow in Grand Rapids, MI!
The city also features a "heat island" (due to its concentration of buildings & concrete which absorb and release heat). In the summer, when winds are from the south or west, it can be noticably hotter in the city than interior U.P. communities. If winds come off the lake the opposite can happen, Marquette can be significantly cooler than surrounding areas.
For weather in Marquette County and beyond, see our area page where you can compare temperatures and get the regional outlook.
Radars
There are three radar options to choose from on our home page. The default image is provided by the National Weather Service. The NWS radar uses very little data, and yet it's very sensitive. A rule of thumb is that it takes about 20 dbZ (light green) for precipitation to occur. Other colors can show fog, drizzle, smoke, etc. "Dark Sky" is the most interactive option, but it also uses the most data (4MB per page load). The Weather Underground radar excels at color coding precipitation: snow is blue, freezing rain is pinkish and rain is green. It's also low bandwidth, but not as sensitive as the NWS radar.
Design
This website's blue-aqua color scheme attempts to evoke Marquette's environment particularly the interplay of the sky and the water. Shades of gray represent cloudy skies and the warm tones suggest sandy earth and sunshine. The objective was to mimic a good painting which appears to change according to the light.
Compatibility
This site is designed to perform well with mobile and desktop versions of Chrome, Safari, Firefox, Opera, Edge and Internet Explorer released within the last 5 years. If you are using older software, the site will either "gracefully degrade" (content remains readable but certain features are inactive) or completely breakdown (ancient browsers will do that!). Beware that outdated browsing software is a gateway for hackers to gain control of your computing device.
Privacy
Our very brief privacy policy is as follows. We collect non-personally identifiable data and use open-source analytics software (Matomo) to better understand our audience and the effectiveness of this site. Among the data collected is: browser version, device type, approximate location (city & state), pages visited, time spent, etc. This information does not leave our server and no 3rd party has access to it. Your preferences on the home page for forecast, conditions update frequency, and units are preserved by local storage (or cookies) on your computer. No third party has access to this information. If you fill out the contact form, we will not sell or distribute your email address for any reason.
Disclaimer
This site is intended for informational purposes only. For decisions regarding the preservation of life or property, please visit the National Weather Service Weather Forecast Office Marquette or tune into local radio and television stations which are required, by law, to alert the public in the event of an emergency.
Questions? Comments? Please contact us.